Coming to Albuquerque in 2017
$1000 Rebate for December Sign-Ups Only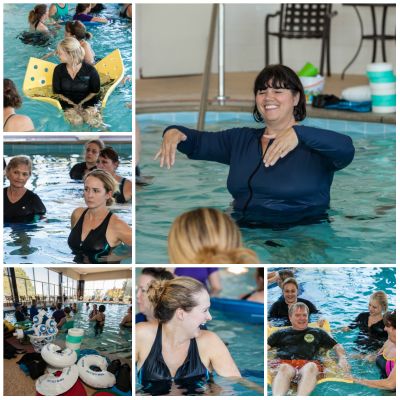 On the fence about getting attending next year's 2-Week Pediatric Aquatic Therapy Intensive?
If so, how about a $1000 rebate as incentive?
Anyone who registers before December 31st will receive a $1000 prepaid credit card* to use as they see fit. Use it for your airfare, your hotel, or use it to take the family along and make it a vacation. It's up to you!
We are also offering prepaid credit cards for later registrations. Hurry though -- the sooner you register, the more you get back. Don't forget; not only will we pay you to register early, you'll come home with your Pediatric Aquaticist℠ (PAq) credential in hand.
For more information, or to register, please visit the course page here.
*mailed out 30 days before class
Aquatic Therapy University is a provider of live and distant continuing education for healthcare providers who are already licensed or otherwise recognized to practice in their states and countries. We are recognized as a pre-approved provider of CEUs/CCUs by the Federation of State Boards of Physical Therapy. Our classes are also approved through multiple state PT, OT and SLP state boards, and other entities. We are currently seeking renewal as a BOC approved provider for the Athletic Trainer. Ask us about your state's requirements.
---
Can't wait years to get your Aquaticist℠ credential?Then dive right into one of our 2-Week Aquatic Therapy Intensives. Get our most popular musculo, pediatric, geriatric and sports courses all in one 10-day span. Coming soon to Albuquerque, NM. Bring your family and make it a vacation!
Thinking about getting certified? Earn our new Aquaticist℠ credential instead. It's challenging, clinical and wallet-friendly. It's not just your father's aquatic therapy certification. It's better (and your boss and co-workers will know it, too).

Bring an ATU Campus to Your State

ATU is expanding and we are looking for entrepreneurs like you to be the center of aquatic excellence in your state (or nation). The body of evidence is growing: patients progress faster in the water. Help us spread the gospel (and make money doing it).

Super-Sized CEUs
Ever earn a 4.25 GPA? Ever put out 125%? Well now you can experience the feeling with our new continuing competency units awarded by the Federation of State Boards of PT. Over twenty (20) classes now approved with more on the way each week.

Attend a 2017 seminar.
Attend a class at one of our planned regional trainings this year, from Phoenix to Houston to Minneapolis. More classes added every month!
(Add name to seminar notification list)

Train at home.
Why travel? If you have a staff ready to train... we'll bring the show to you. So much more cost-effective. And your team is home for supper! (View course catalog).

Hire a consultant.
Tired of running in circles? Our consultants will make it possible to make the right decisions... the first time. It takes an Act of Congress to fix a mistake made in concrete.

Get credentialed.
Looking for a progressive, tiered approach to your aquatic therapy education. Check out our 84-hour tracks for aquatic therapy excellence.

View distance-learning for CEUs.
Our famous 4-hour Aquatic Therapy Boot Camp introduction to aquatic therapy is now a DVD inservice module for clinical training. Comes with 10 Certificates, 10 manuals and easy at-home lunch-n-learn capacity for the whole team.





Don't take our word for it. Therapists love the kind of training that they get at ATU. Why? We don't believe in large classes or standing on the deck. We don't think you can learn aquatic therapy in a classroom. Listen in!

Read our recent press!
---
Some of our Happy Campers